Description
NanoSeedz™ provides long gold nanorod products in high purity and high monodispersity. The number percentages of long gold nanorods in the products are >90%. The ensemble longitudinal dipolar plasmon resonance wavelengths are larger than 900 nm. Such high-quality long gold nanorods are expected to enable wide applications in biological imaging and sensing in the second biological transparency window, enhancement of molecular vibrational fingerprints, as well as fiber optic communications.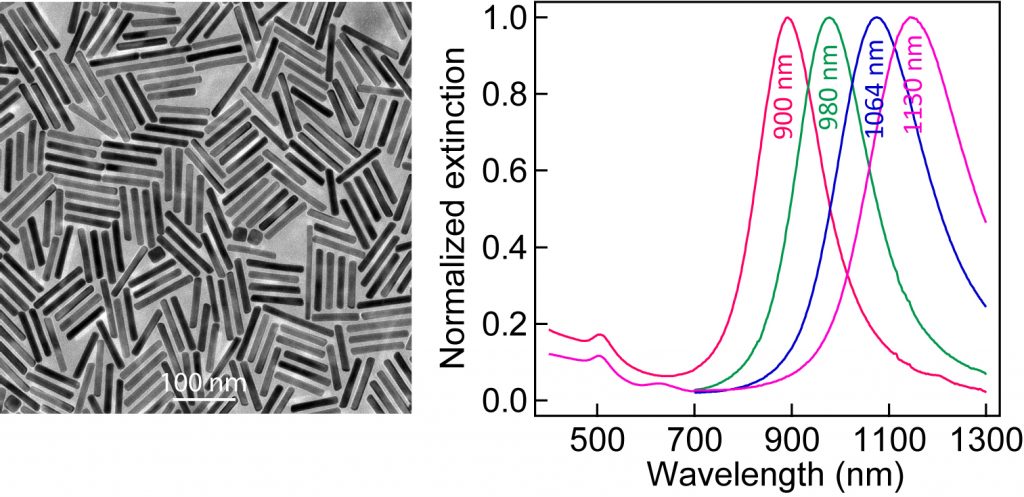 The length is measured between the two opposite ends. TSPRW and LSPRW refer to the transverse and longitudinal dipolar plasmon resonance wavelength, respectively. The aspect ratio is the length-to-diameter ratio.

OD refers to the optical density of the nanorod solution. All gold nanorod products are delivered in a volume of 10 mL.
Content of Active Ingredient
The gold nanorod solutions exhibit strong extinction in the near-infrared range. The extinction value at the longitudinal dipolar plasmon resonance wavelength (LSPRW) is proportional to the nanorod particle concentration. We therefore use optical density (OD) at the longitudinal dipolar plasmon peak to indicate the amount of the active ingredient gold nanorods in our products. The optical densities are measured on a UV/visible/NIR spectrometer.
NanoSeedz™ provides gold nanorod products with high purity and high monodispersity. The synthesis of each batch of gold nanorods has been precisely controlled, and the samples are independently characterized and examined by extinction spectroscopy before delivery. We sincerely promise that samples with the same label vary very slightly from batch to batch.
Delivery
All products will be shipped in three days after receiving the payment. The items will be shipped by Hong Kong Post for international orders. For example, it will typically take one week to ship the products from Hong Kong to the major cities in USA by Hong Kong Post. For orders from Mainland China and Hong Kong SAR, we will send products by land express due to the air-traffic control in Mainland China.