Description

NanoSeedz™ provides gold nanorod products with high purity and high monodispersity. The synthesis of each batch sold has been precisely controlled and the samples are independently characterized and examined by extinction spectroscopy before delivery. We sincerely promise that samples with the same label vary very slightly from batch to batch.
Detailed Parameters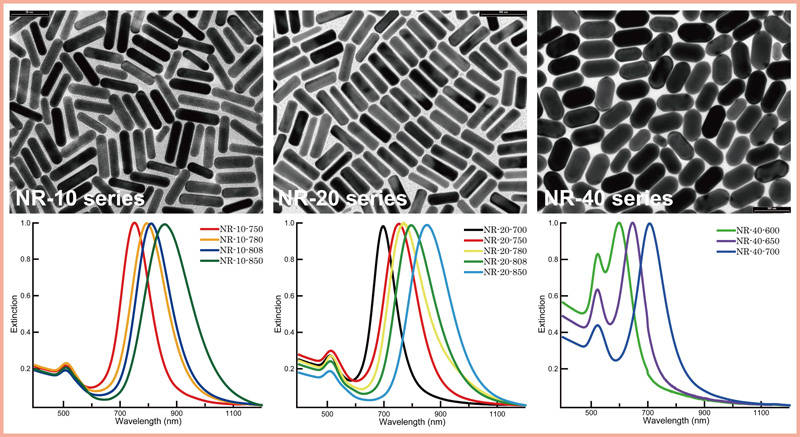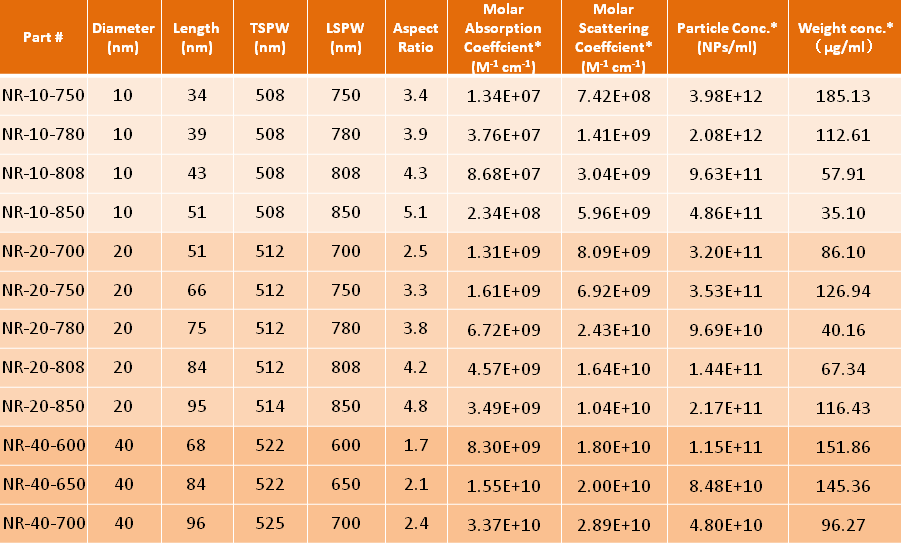 * The absorption and scattering coefficients are calculated from electrodynamic calculations by modeling the Au nanorods in a FDTD software.
* All the particle and mass concentrations of the Au nanorods are corresponding to the OD = 5 products. For OD = 10/50 products, the concentrations should be multiplied by 2/10, respectively.
More information of the Au nanorod products can be found here: Bare Au NRs Data Sheet
Prices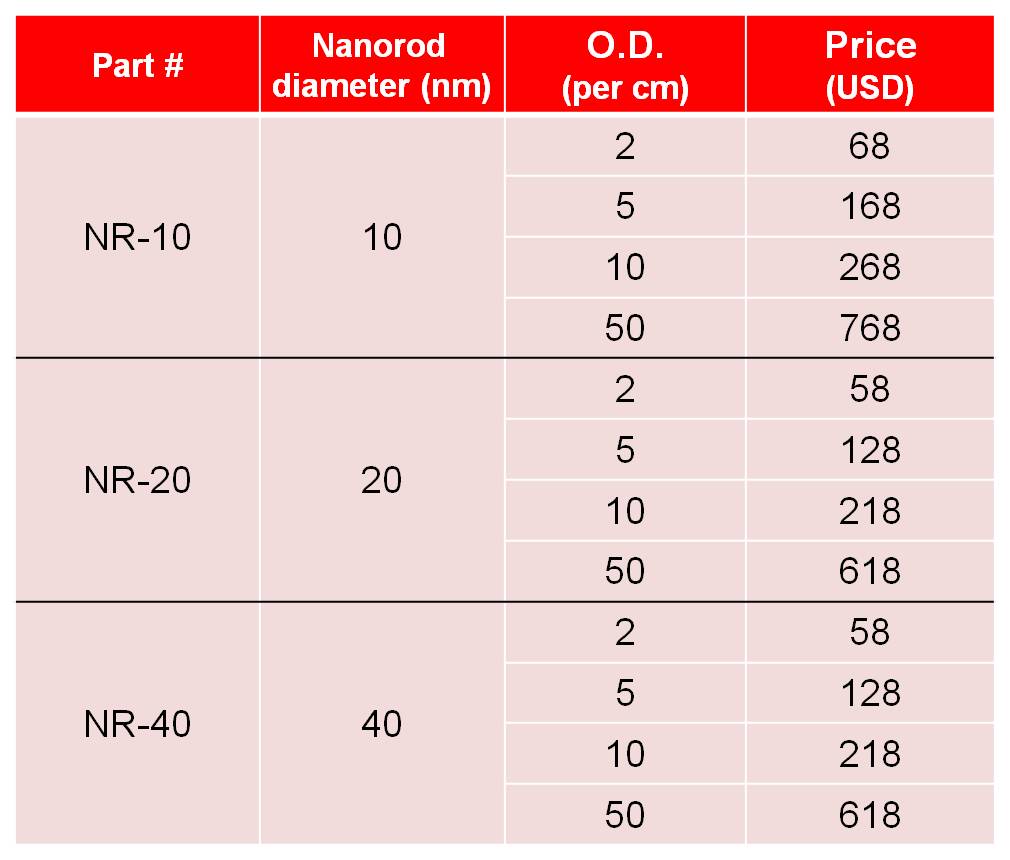 All NanoSeedz™ Au nanorod products are delivered in a volume of 10 mL.
NanoSeedz™ provides high quality Au nanorods with different plasmonic resonance wavelengths. The plasmonic peak wavelengths of the Au nanorod samples cover from 550 to 850 nm. The peak wavelength deviations for each type of product are carefully controlled within ± 5 nm. Besides, we provide nanorods of different sizes (diameter = 10, 20 and 40 nm, respectively), satisfying the requirements of various applications, e.g. photothermal conversion, bioimaging, and optical signal enhancement, etc. All the products provided by Nanoseedz™ are dispersed in deionized water and the concentration of the surfactant CTAB is less than 0.1%. The products are dispersed evenly in water and are very stable. They can be kept for a few months without any precipitation.
Content of Active Ingredient
The Au nanorod solution exhibit strong extinction in the visible to infrared wavelength range and is proportional to the Au nanorod concentration. We therefore use optical density (O.D., extinction per 1 cm at the plasmon resonance wavelength) to indicate the amount of the active ingredient Au nanorods in our products. The optical densities are measured by the UV-Vis spectrometer.
Commercial Au nanorod products usually have their optical densities at 1 (mass concentration of gold is around 0.001%). To increase the content of the active ingredients and more importantly, to save our customers' time and money for concentration of samples before using, we have concentrated our samples in advance to remove excessive cheap water and surfactants. Our products have much higher mass concentration of gold and stronger extinction. Users can dilute the products easily using deionized water. Each sold batch of our products is evaluated by the product of its volume and OD.
Most NanoSeedz™ products are delivered in a volume of 10 mL.
Delivery
All products will be sent in three days after receiving the payment. The items will be shipped Fed Ex Intl priority for international orders. For orders from Mainland China and Hong Kong SAR, we will sent the items by land express due to the air-traffic control in Mainland China.